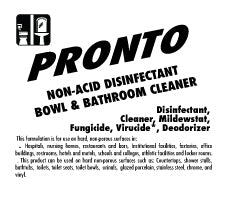 PRONTO
Non-Acid Disinfectant Bowl & Bathroom Cleaner
EPA Reg. No. 10324-85 (Download SDS)
A ready-to-use, non-acid formula that cleans and disinfects hard non-porous bathroom surfaces. New, improved formula effective against over 30 pathogens including Human Coronavirus**, MRSA, Hepatitis B & C, Herpes Simplex Types 1 & 2, HIV-1 (AIDS) and more. Kills Herpes Simplex Type 2, Influenza A2, and HIV-1 (AIDS virus). Staphylocidal, Virucidal, Pseudomonicidal, Salmonellacidal. Kills athlete's foot fungus. Mildewstatic, fungicidal, virucidal. Terrific all-purpose bathroom cleaner with a scent so fresh, powerful, and long- lasting you'll be blown away! Blue in color. EPA registered.
USES: Cleans, deodorizes and disinfects toilets, urinals and all other bathroom fixtures. Safe for metals, plastic, fiberglass. Inhibits growth of mold and mildew on walls, floors, ceilings. Can be used on any hard non-porous surface.
NOTE: Also available in clinging formula
**EPA List N: Disinfectants for Use Against SARS-CoV-2 which causes the disease COVID-19.