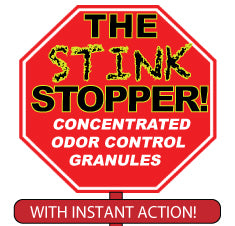 THE STINK STOPPER!
Concentrated Deodorant Granules
Now available with a natural corncob base! A truly great product that is often imitated but seldom equaled. Extra-strength granules effectively deodorize a variety of areas. Long-lasting pellets provide superior malodor control. An absorbent base helps neutralize smelly spills such as vomit. Especially useful during hot, humid summer months. Powerful cherry fragrance.
USES: Use to deodorize dumpsters, trash cans, waste receptacles, supermarket garbage areas, cigarette urns, trucks, school buses, etc.