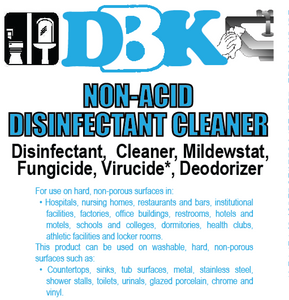 DBK
Ready-To-Use Disinfectant Cleaner
EPA Reg. No. 10324-85 (Download SDS)
Highly effective against over 30 pathogens, including Human Coronavirus**, MRSA, Hepatitis B and C, Herpes Simplex Types 1 and 2, HIV-1 (AIDS) and many more. A completely ready-to-use cleaner and disinfectant for hard, non-porous surfaces. Mildewstatic, fungicidal, virucidal. EPA registered. Blue in color. Long-lasting fresh scent.
USES: Cleans, disinfects and deodorizes hard non-porous surfaces like countertops, floors, garbage cans, tables, chairs, walls, etc. Ideal for hospitals, hotels, nursing homes, schools, etc.
**EPA List N: Disinfectants for Use Against SARS-CoV-2 which causes the disease COVID-19.