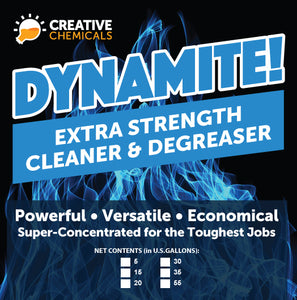 DYNAMITE!
The Extra Strength Cleaner & Degreaser
Super concentrated for extreme jobs, DYNAMITE! removes grease, grime and soils of all kinds. Safe to use on virtually all washable surfaces, DYNAMITE! concentrate is highly dilutable making it easy to use and an excellent value. High detergent, alkaline formula is effective at dilutions up to 100:1, depending on the application. Purple or blue in color.
USES: Engines and machinery, greasy equipment, heavy duty cleaning of all kinds, oors, walls, all washable hard surfaces where extreme cleaning and degreasing is required.