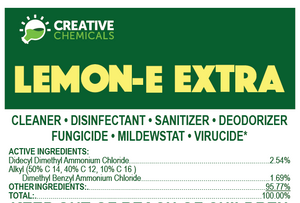 LEMON E EXTRA
Cleaner, Disinfectant, Sanitizer, Deodorizer, Fungicide, Mildewstat & Virucide

EPA Reg. No. 10324-154 (Download SDS)
Creative Chemicals Lemon-E Extra is a Neutral pH, phosphate-free formulation designed to provide effective cleaning, deodorizing and disinfection in areas where housekeeping is of prime importance in controlling the hazard of cross-contamination on treated  surfaces. For use in athletic facilities, locker rooms, recreational facilities, health clubs, spas, schools, restaurants and bars, institutional kitchens, food storage areas, veterinary clinics, hospitals, medical and dental offices, healthcare facilities and nursing homes. This product is a hard, non-porous non-food contact surface sanitizer. Creative Chemicals Lemon-E Extra cleans, disinfects and deodorizes in one step. This product is a concentrated hospital use disinfectant that is effective against a broad spectrum of bacteria, is virucidal* (including Human Coronavirus**) and fungicidal, and eliminates odor causing bacteria when used as directed. This product, when used as directed, can be used to disinfect, clean and deodorize on washable hard, non-porous surfaces such as: floors, walls, metal, stainless steel, glazed porcelain, glazed ceramic tile, plastic, vanity tops, shower stalls, bathtubs, and cabinets.
This product is an effective fungicide against Trichophyton mentagrophytes in the presence of 5% blood serum and Candida albicans on hard, non-porous surfaces in the presence of 5% blood serum and 400 ppm water hardness as CaCO3 on bathroom surfaces when used on hard, non-porous surfaces in areas such as locker rooms, dressing rooms, shower and bath areas, exercise facilities.
USES: One-step hospital disinfectant, fungicide, virucide, deodorizer and cleaner; non-food contact surface sanitizing; to control mildew; sewer backup and river flooding; carpets, carpet cushions, upholstery, drapes and other porous materials, subfloors, drywall, trim and frame lumber, tackless strip and paneling; water and smoke damage restoration; animal premises.
**EPA List N: Disinfectants for Use Against SARS-CoV-2 which causes the disease COVID-19.