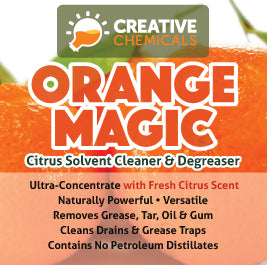 ORANGE MAGIC
Ultra Concentrate
Amazing all-natural product made only from pure d'Limonene and special detergents. 100% active, powerful dilutable product with hundreds of uses. Fantastic degreaser; drain/grease trap maintainer; tar, asphalt, gum and adhesive remover. Removes rubber burns, graffiti, and rug and upholstery stains, too. Excellent for odor control around dumpsters, sewer plants, etc. Leaves everything with a naturally fresh citrus scent.
Accept no imitations, ORANGE MAGIC is the real deal! Non-caustic, non-corrosive, biodegradable, phosphate-free, contains no petroleum distillates. Very attractively packed in specially treated plastic bottles. Orange in color. Incredibly versatile!
USES: Ideal for cleaning and degreasing a wide variety of surfaces such as drains, grease traps, machinery, engines, and just about any industrial application.