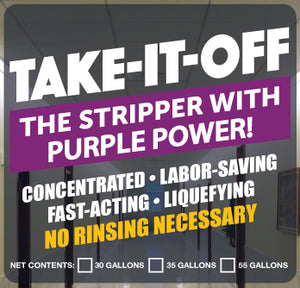 TAKE IT OFF!
Extra-Strength Rinse-Free Stripper
Our most powerful no-rinse stripper. A potent blend of solvents and wet- ting agents combine to make stripping quicker and easier than ever. 50% active ingredients ensure superb results. Old finish is rapidly liquefied with no agitation needed. The ultimate time and effort saver. Virtually foam-free. Purple in color.
USES: Removes carnauba and microcrystalline waxes, acrylic, styrene, polymer, copolymer, oligomer and metal cross-linked finishes, plus acrylic and water-based urethane sealers quickly and easily.