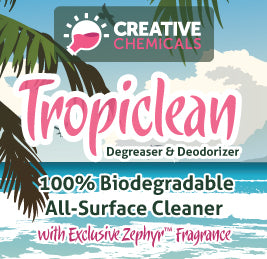 TROPICLEAN
100% Biodegradable All-Surface Cleaner
TROPICLEAN changed the way America cleans. Free of the petroleum solvents and standard detergents (such as nonylphenols) found in other cleaners, 100% biodegradable TROPICLEAN is such an effective cleaner you'll never believe it's a "green" product.
Effortlessly removes dirt, grease and grime from a many surfaces—even glass! Special surfactants rinse incredibly easily, leaving no residue behind. Can be used full strength or diluted. Best of all, TROPICLEAN deodorizes with our incredible and truly unique fragrance.
TROPICLEAN even looks different packaged in crystal-clear bottles for an eye-catching look your customers will love. 
USES: Outstanding for any hard surface. Spray on porcelain enamel, countertops, desks, walls, appliances, restroom surfaces, tile, etc. Use to safely mop floors of all kinds.